All of a sudden, I'm 25 weeks pregnant. Feels like it really snuck up on me.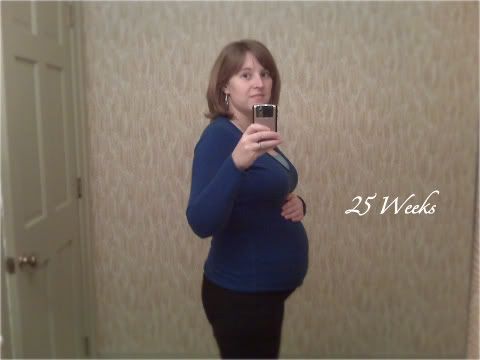 Things I Wish I Could Do

Wear yoga pants to work. Seriously. I've been living in a pair of pants from Wal-mart. So comfy. I can push them right below what is becoming a very large belly, according to my husband. As soon as I get home from work, I put on these pants and don't take them off until I go to bed. I also wear them all weekend long if I'm staying in the house. Love them. (Don't worry; I do make it a habit to wash them two or three times a week.)

Hire a wife. Or a maid. Whatever. All I know is, I'm keeping up with the laundry and the dishes, but that's about it. I'm becoming sort of attached to all the little dust bunnies.

Have a three-day weekend. Why can't we have Columbus Day off? I'm just saying, he was a pretty important guy, ya know?

Take a nap. Yep, it's 9:30 in the morning, and I'm ready for a nap.

See my husband. It's harvest time again, which means he leaves the house at 6 and (maybe) gets home around 9. At which point I'm too tired to even think straight, let alone ask him about his day.

Figure out how to get out of working on Saturday. I signed up to be at a marketing event from 10-2, over an hour away from my house. Good one, Cara.


Things I AM Doing

Scrapping. I know, right? I'll share a bunch over the next few days (even some digi! Go me!). I've been on a roll. Like butter. On another note, a buttered roll sounds delicious right now.

SLOWLY cleaning out the-room-that-will-be-Tator-Tot's. I always complain that my husband has too much stuff, but I'm beginning to realize that maybe I do too. Please don't tell him. I'll never hear the end of it.

Working. At my job. It's a slow time of the year for us, which means I have lots of time on my hands to think about what other stuff I could be doing if I were at home.

Eating. Pretty much all the time. And my scale shows it.

Drinking Cokes. I know, I'm pregnant, I should lay off the caffeine and the empty calories. But honestly? I gave up coffee. Give me a break. I'm doing really well with everything else. Last night I had turkey sausage while my husband had a ribeye. (In the interest of full disclosure, I don't like steak anyway. And I love turkey sausage. But that's not really the point, is it?)


What do you wish you were doing right now?