. . . kick the door down.
My mother-in-law has an interview next week for a full-time job with a great organization. Although she has been working almost full-time for well over a year now (30+ hours a week), this will be the first full-time job she has had in a long time. She's been waiting for this particular job to open for about a year now, and I want to wish her the best of luck. This would be a great position for her, and I have a really good feeling about it. I'm going to leave this in her mailbox Monday morning: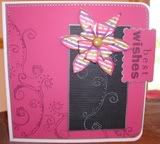 (I totally CASED this from
stampztoomuch
on
SCS
)
I'm thankful for new opportunities today. As I mentioned yesterday, I was offered the opportunity to work with a wonderful company last year. At the time, I was pretty happy with my current position. I had just been promoted, and things were looking up for me. When a friend of the family called last June, I wasn't sure if I was interested or not. My husband and I talked about all the pros & cons, and we decided I should send a resume in, "just in case."
Well, within a few months, I was frustrated, stress, and not seeing anywhere near the earning potential in my current job that I was expecting. I was actually making less than I did before the promotion, and we were very worried that the spiral would continue downward.
So when I was called in August for an interview for the new position, I was super excited. I ended up with the job (obviously), and learned a great lesson. Even though I was content at the time, it was important to look at the big picture and take a chance on a new opportunity. Instead of being in an incredibly stressful environment, working long hours for little reward, I am in a position where I am able to help others and really have a potential to learn and grow.