Grateful for hobbies.
My husband has insisted for years that I needed a hobby. I was always super-involved in school - cheerleading and FFA in high school, coaching and sorority in college - and to be honest, I was relieved to lighten up a little when I finished school and we got married.
He has tons of hobbies - farming, hunting, fishing, etc. He believes that doing something you enjoy is a great way to relieve stress. I agree, but couldn't really find something on which to focus my energies.
In steps my MIL, who introduces me to the world of stamping and cardmaking. I was extrememly reluctant at first, believing that I lacked the creative gene. She convinced me to come to a holiday card-making party with some other in-laws last October. I came, announcing that I was just there to be helpful to whoever needed it. Before I knew it, I was going home with over 15 cards to send out, thinking, "What just happened here?" I had so much fun that I attending two more "stamping parties" and was hooked. I have since been immersed in the world of scrapbooking and stamping, joining some awesome online communities. I am just in awe of the creative genious that exists right at my fingertips, via the internet.
I love all the possibilities this hobby has opened up for me. I feel like I can view myself as a semi-creative person, which is a huge deal for me. I also love that it is allowed (and even encouraged) in the stamping/scrapping world to steal and build on other ideas. Here's a scrapbook layout I recently completed that I completely "borrowed" from another scrapper ( who is much more talented than me) on
Coordinates Collections
. I love not having to reinvent the wheel everytime, and being able to learn from others.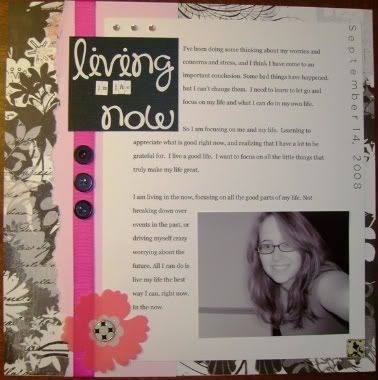 In other news, I completed all but one of my daily goals yesterday. I forgot my multivitamin, so I need to come up with a system to remember to take it. I might put a few vitamins in a small case to carry in my purse. My "bag" is so full and heavy already, one more thing shouldn't hurt!
Also, the dentist went fairly well yesterday. My regular dentist really does quite a bit to try and alleviate my anxiety, which makes the whole experience less nerve-wracking for me. He's also pretty quick, which helps a lot!